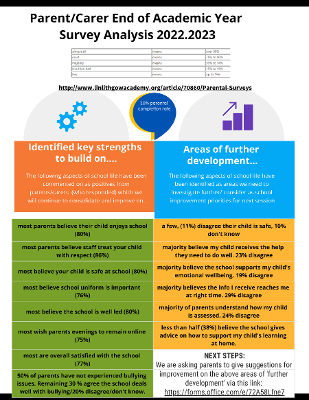 Parents/carers are given a formal opportunity to evaluate the work we do in ensuring positive outcomes for all our learners via our 'end of academic session' survey. This is in addition to weekly opportunities offered via the HT Weekly Update.
A parental survey will be opened in April/May each year allowing your 'end of academic session' evaluations to be received.
Summary high level findings will be shared on this page once collated. A follow up survey will then be sent asking for more detail on areas identified as requiring development. This will then be used to inform future school improvement priorities.
Session 2022.2023
You can view a visual of high level summary return from most recent 'end of academic session ' survey below.
We are now asking parents/carers to expand on their replies that are 'categorised within 'areas for development' by giving further suggestions via the link above.
These replies will be used to inform possible improvement activities in the upcoming session.
Parent Survey May 2023
(PDF)
[94KB]
(opens new window)